Are you tired of manually weighing fire suppression cylinders during installation and servicing?
If so, we have the ultimate solution for you: Portalevel® MAX PLUS, designed for non-invasive liquid level testing in fire suppression systems,
Using Portalevel® MAX PLUS means:
No more dismantling of the system – safer and quicker
No more lifting of heavy cylinders – save risk of back injury
Time saving: It takes 1 person 30 seconds with a Portalevel compared to 2 people taking 20 minutes to weigh
Time is money, and with Portalevel® MAX PLUS, you can save time during servicing, or even complete more servicing jobs in the same amount of time. The display shows GAS or LIQUID and is accurate to ±1.5 mm.
But that's not all! Once you have located the liquid level inside a cylinder, you can easily determine the agent weight using the Portasteele® CALCULATOR – the world's first liquid level to agent mass calculator.
Don't miss out on this innovative technology that can save you time and money. Get your hands on Portalevel® MAX PLUS and Portasteele® CALCULATOR today!
Benefits of the Portalevel® MAX PLUS:
Instant Certainty: The display indicates GAS or LIQUIDwith clarity and ease, allowing for quick testing.
Comprehensive Calibration: Offers three calibration modes to accommodate various fire suppression cylinders and agents, making it a versatile solution for all your testing needs.
Impressive Precision: With accuracy levels of +/-1.5mm, you can trust the device to provide highly accurate measurements every time.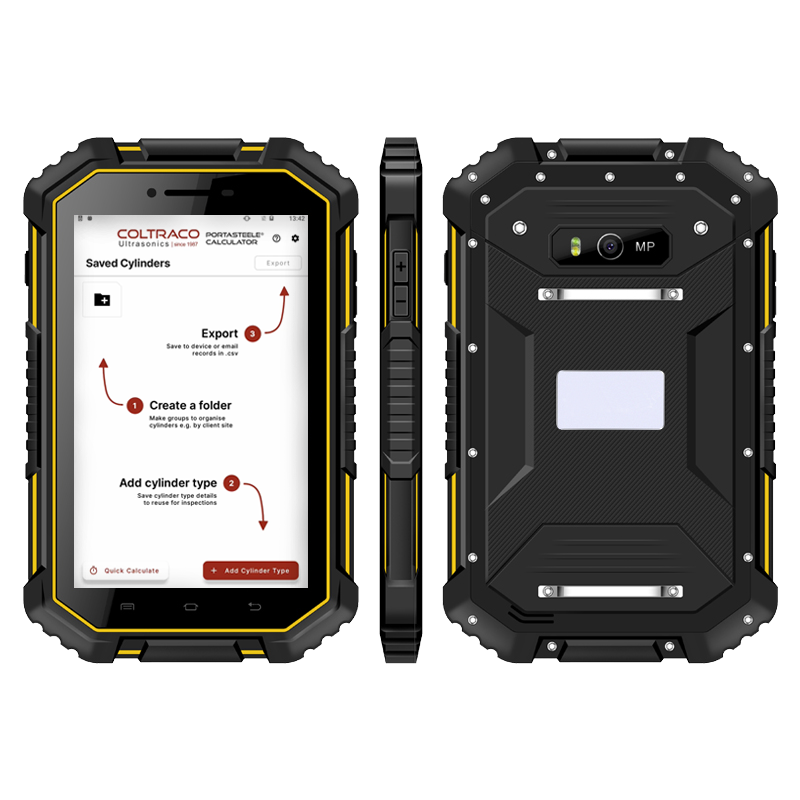 Benefits of the Portasteele® CALCULATOR:
Seamless Reporting: Effortlessly calculates and generates a report of the agent's mass in your fire suppression systems, saving you time and hassle.
Unbeatable Accuracy: Accurate to within 1%, ensuring precise measurements and reliable results.
Traceable Evidence: Provides traceable evidence that correlates the measured liquid level with the agent weight on the cylinder label.