Marine fire suppression tester
The Maritime Ultrasonic Level Indicator, used to inspect liquid contents within marine fire suppression systems. The MAX Marine is for customers looking for high speed testing and where high intensity testing is expected.
P/N: 2290334-MAXMN
NSN: 6680-99-192-2735
IMPA MSG P/N: 652776
Marine ultrasonic liquid level indicator
The Portalevel® MAX MARINE is an ultrasonic liquid level indicator for any Marine Servicing companies used to testing liquid contents inside large volume of contents in fire suppression cylinders.
How can the Portalevel® MAX Marine help you? The Portalevel® MAX Marine is a marine unit designed for shipboard use and serving the shipping industry and offshore worldwide. The Portalevel® MAX Marine is ideal for testing more specialized agents onboard such as FM200® and NOVEC™ 1230.
Test Quickly – For any vessel or servicing company having to deal with the common time pressures of having to measure very high numbers of onboard fire suppression cylinders, especially CO2, the Portalevel® MAX Marine provides the ideal tool. Often during annual certification, there is significant time pressure on completing the inspection of every cylinder accurately in order to ensure this critical piece of safety infrastructure is fit for purpose. To address this need, the Portalevel® MAX Marine has been designed to inspect cylinders incredibly fast. By reducing the time required to inspect each cylinder, crew members and Servicing companies alike can complete the task quickly and efficiently.
Classification Society Approved – The Portalevel® MAX Marine boasts

ABS Type Approval, UL Approval and RINA Accepted

Test multiple banks of cylinders –  The devices is supplied with the Multi-Banked Extension rods, allowing the operators to easily inspect 2, 3 or 4 rows of cylinders.
Testing multiple agents – Whilst CO2 is the most popular application, the Portalevel® MAX Marine is also capable of inspecting a variety of other clean agents such as FM200® and NOVEC™ 1230 as regularly found onboard more advanced modern vessels
Safer for operators – This method also completely removes the need for weighing cylinders which is an incredibly time consuming and dangerous method which can often result in damage to the system during inspections.
Comply with Regulations –  IMO SOLAS & FSS Code Chapter 2.1.1.3 – "Means shall be provided for the crew to safely check the quantity of the fire extinguishing medium in the containers."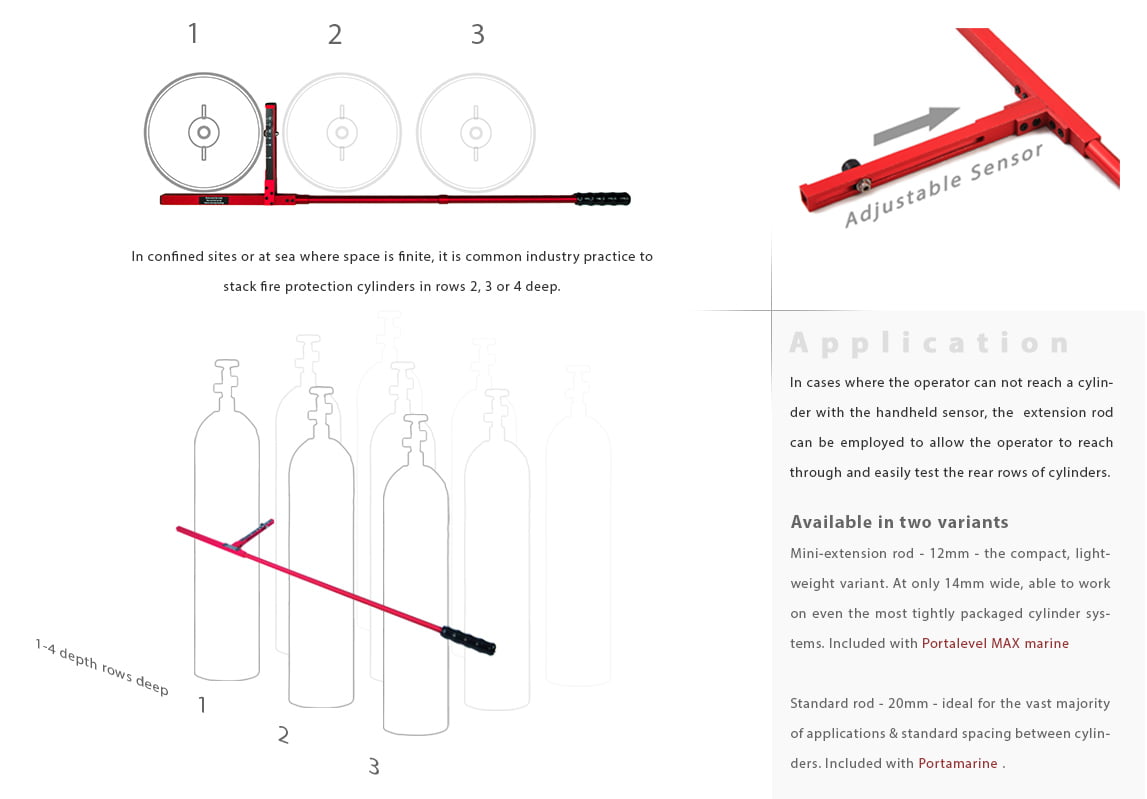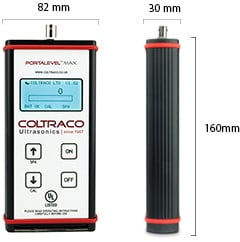 Height: 168mm
Width: 82mm
Depth: 31mm
Weight: 400g
TX/RX sensor with 14mm diameter head, contained within a magnetized sensor applicator, connected with BNC connectors to a 1m co-ax cable 
-20C to +70C / 68F to 158F
Membrane control operated, LCD back-lit display measuring 55 x 28mm
1 x PP3 9V Battery – 12hours continuous operation 
ABS Type Approved
RINA Type Approval
UL Listed
CE 
Manufactured in UK with ISO 9001:2015 compliance 
Main unit – 3 Year Warranty 
Sensor –  1 Year Warranty 
Technical Support – Lifetime of the unit
Download Portalevel MAX Brochure
For basic product information, please find below. If you have any other questions, please contact us directly.
Frequently asked questions
What materials can the Portagauge 5 test?
The portable ultrasonic thickness gauge can test any type of metal and most hard plastics. The most popular metals include steel, aluminium, copper and popular plastics include PVC, Polyethene and fibreglass to name a few!
How accurate is the Portagauge 5?
The Portauage 5 is accurate at testing true material readings (ignoring surface coatings) to within 0.01mm
How to test sprinkler pipes?
The Portaguage 5 can be used to test any sprinkler pipe or other metal piping to identify areas of corrosion, locations where there has been considerable erosion, areas of fungal deterioration and other forms of metal ware. The testing process involves carrying out a series of spot checks along the bottom of the pipe. It is on the bottom of the pipe where liquid will naturally pool and thus where you are much more likely to have areas of heavy corrosion. The user simply goes down the entire length of the sprinkler pipe and continually monitors the pipe thickness and the waveform. Both should be consistent along the full length of the pipe. As soon as the thickness or the waveform begin to deviate significantly, (and they will normally do so together) the equipment has identified an area likely to be compromised and thus further physical & visual inspections will be required.
Do I need training to use the Portagauge 5?
This equipment is incredibly easy to operate, and no dedicated training is required in order to use the unit. We provide operating instructions which is normally enough to provide an operator with confidence and the required knowledge. However, every Coltraco unit comes with free technical support for the lifetime of the equipment so if you do need any further assistance, our technical team are on hand to support
How long does it take to deliver the portable thickness gauge?
These units are almost always available ex stock from the UK. Delivery to the UK is normally next day, Europe in 2 – 3 days and most of the rest of the world in 3 – 4 days from order. Please contact our sales team for an update on availability and for any other questions.
I don't need to ignore the paint layer. Will this still work for my needs?
The short answer is yes and normally triple echo thickness gauge technology can be used for any thickness measuring applications. We do also offer our Portagauge 3 technology however which uses single echo technology and will measure paint & material as one reading.