Ultrasonic Liquid Level Indicator
The Portalevel® MAX liquid level indicator for locating liquid levels in fire suppression cylinders, especially CO2, NOVEC 1230® & FM-200™
Ultrasonic level indicator
The Portalevel® MAX is the fastest & easiest to use unit in the Portalevel Range. It is most popular with customers looking to test large numbers of cylinders and those using the equipment very regularly.
Quick and Easy Testing: The 8th Generation technology testing procedure is short and simple, making the process of inspecting cylinder content incredibly fast. Every cylinder can be inspected in under 30 seconds, with the 'cal' feature automatically setting up the unit for each cylinder at the touch of a button. This significantly reduces user error, makes the testing process very simple and requires minimal user training.
Powerful Testing: The Portalevel® MAX also has 4 different power modes (SPA). The SPA feature increases the sensitivity of the device and increases the strength of the output signal. As well as being an ideal unit for co2 bottle level measurement and to check the level of gas, the SPA feature enables the unit to continue working on very large tanks up to around 800KG of agent or containers experiencing high levels of corrosion and pitting.
Wide Range of Verifiable Agents: including but not limited to the common liquefied gaseous fire suppressant agents e.g. CO2 Bottle Level Measurement, Aluminium CO2, FM200/HFC-227EA, NOVEC 1230/FK-5-1-12, FE 25/FE 13, FE 36, Halon 1301/1211, CEA410, NAF S III, Refrigerants/R507
For those not using the equipment very regularly or those only testing smaller cylinders (below about 350KG / 700lbs) please see the Portalevel® Mini as another option!
Also, if you wish to store, download and export all readings plus convert any liquid level into agent weight, please see our Portasteele® Calculator
Portalevel MAX main unit   hard aluminium case protecting the controls, main electronics and power supply
Ultrasonic gel    Assists perfect contact between sensor & testing surface for maximum accuracy and ease of use.
Extension Rod (optional) Arm reaches easily between cylinders, allowing users to easily test multi-banked rows 2, 3 or 4 rows deep. 
Piezo electric sensor fitted with magnetic head to ensure perfect positioning on the cylinder 
Portatherm® IR thermometer  to quickly measure the ambient temprature of cylinders for level-to-weight conversion
Carrying case – Protecting the equipment during transport, storage and use
Calibration certificate    For traceability of accuracy and documenting unit setup. 
Operating instructions We can provide training and technical support via our Video Materials, over the phone or video call but the primary method is through our very clear, step-by-step operating manuals.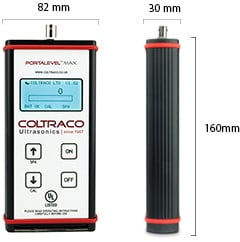 Height: 160mm
Width: 82mm
Depth: 30mm
Weight: 300g
TX/RX sensor. 14mm diamater head. Magnetized sensor application connected by 1m BNC co-ax cable 
1 x PP3 9V battery
10 hours operational battery life
Membrane controled LCD backlit display
dimensions 55 x 28mm
-20C to +70c  /  68F to 158F
Classifications & Approvals
UL Listed 
RINA Classification Society Approval 
ABS Type Approval 
1 x PP3 9V Battery – 12hours continuous operation 
-10C to +65C / 67F to 160F
IP65 Rating 
CE UKAS ISO 9001 Registered
ISO 14001 
Main unit – 3 Year Warranty 
Sensor –  1 Year Warranty 
Technical Support – Lifetime of the unit
Download Portalevel MAX Brochure
For basic product information, please find below. If you have any other questions, please contact us directly.
Frequently asked questions
What materials can the Portagauge 5 test?
The portable ultrasonic thickness gauge can test any type of metal and most hard plastics. The most popular metals include steel, aluminium, copper and popular plastics include PVC, Polyethene and fibreglass to name a few!
How accurate is the Portagauge 5?
The Portauage 5 is accurate at testing true material readings (ignoring surface coatings) to within 0.01mm
How to test sprinkler pipes?
The Portaguage 5 can be used to test any sprinkler pipe or other metal piping to identify areas of corrosion, locations where there has been considerable erosion, areas of fungal deterioration and other forms of metal ware. The testing process involves carrying out a series of spot checks along the bottom of the pipe. It is on the bottom of the pipe where liquid will naturally pool and thus where you are much more likely to have areas of heavy corrosion. The user simply goes down the entire length of the sprinkler pipe and continually monitors the pipe thickness and the waveform. Both should be consistent along the full length of the pipe. As soon as the thickness or the waveform begin to deviate significantly, (and they will normally do so together) the equipment has identified an area likely to be compromised and thus further physical & visual inspections will be required.
Do I need training to use the Portagauge 5?
This equipment is incredibly easy to operate, and no dedicated training is required in order to use the unit. We provide operating instructions which is normally enough to provide an operator with confidence and the required knowledge. However, every Coltraco unit comes with free technical support for the lifetime of the equipment so if you do need any further assistance, our technical team are on hand to support
How long does it take to deliver the portable thickness gauge?
These units are almost always available ex stock from the UK. Delivery to the UK is normally next day, Europe in 2 – 3 days and most of the rest of the world in 3 – 4 days from order. Please contact our sales team for an update on availability and for any other questions.
I don't need to ignore the paint layer. Will this still work for my needs?
The short answer is yes and normally triple echo thickness gauge technology can be used for any thickness measuring applications. We do also offer our Portagauge 3 technology however which uses single echo technology and will measure paint & material as one reading.